Main specific and otional equipments
An OCQUETEAU can sail all year by any type of sea and climate. Inevitably, some special equipment is needed. You will find here the main specific equipment  available on request at the boat yard.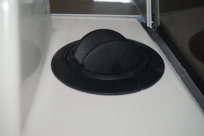 ---
The OCQUETEAU boats are sold all around the world, especially in Scandinavian countries where a good heating is essential. Useful for comfort, it also helps to dry air and fight effectively against moisture.
Two types of heaters are available:
- The heaters defogger connected to the cooling circuits of inboard engines. These systems are very useful to the extent that they make it easy to have a demisting the windscreen, useful in winter when the wheelhouse is closed and that there is many peopple. They also serve to heat the wheelhouse and room but only when the engine is running. For fishermen and day trips, it is the ideal solution. Moreover, this solution is clean by nature: no flue gas is emitted into the cabin and it only recover lost energy. However, if one wants to spend the night aboard or a long time without engine, one must focus on auxiliary heating systems with independent burner. In the same way, with very few exceptions, outboard motors have no heating circuit connections and needs independant heating system.
- The auxiliary heaters operate independent burner, as their name suggests, without the need for engine operation. They are therefore suitable for cruising boats and outboard motors. There are two types: diesel or gasoline. On a diesel imboard, no hesitation, we must focus on diesel. This eliminates the need of a second fuel tank and avoid gasoline on board, always more dangerous than diesel. With a petrol engine, there is in theory choice. But at OCQUETEAU, when we practice the cruise or the long days on board, we strongly recommend the diesel, diesel engine of course, but also for heating and even when you have an outboard motor or inboard gasoline. It will, of course, need a small diesel tank but it will reduce the risk, especially in bad lighting or leak in the heating supply system.
---