Main specific and otional equipments
An OCQUETEAU can sail all year by any type of sea and climate. Inevitably, some special equipment is needed. You will find here the main specific equipment  available on request at the boat yard.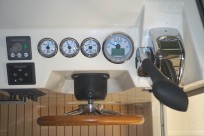 ---
The hydraulic steering is more precise and multiplies better the efforts in comparison with a mechanical steering with cable. It allows to keep more easily your heading by undergoing less torque efforts driven by the motor and correcting the course by simple pressure, without real movement. Its only drawback is a tendency to drift over time when applying a small sussession of corrections. But this drift is normal and present no disadvantage.
It is highly recommended over 115 hp.
---